Johns Hopkins University and Health System have a citywide local hiring initiative called HireLocal that is part of the larger HopkinsLocal program. This initiative aims to increase the number of city residents that are employed at Johns Hopkins Institutions.
If you are a Baltimore City resident interested in applying to great career opportunities, please visit our career sites. If you want to know more about neighborhoods and positions that are part of the HopkinsLocal program, read more about our Hire Goals.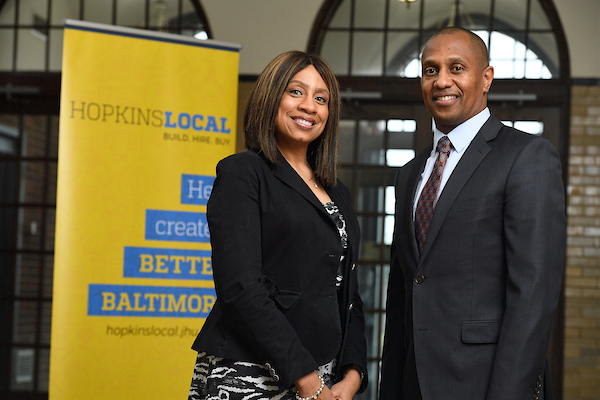 Ian Matthew-Clayton and Julia Lynton-Brown
Ian, an executive director of talent acquisition, and Julia, recruitment manager, diversity, equity & inclusion, seek out talented applicants from HopkinsLocal focus areas and help them find the best job prospects at Johns Hopkins.
Do you want to see open positions at the university?
Go to the HopkinsLocal page of the university career site.
Do you want to see open positions at the health system?
Go to the Medicine career site.
Do you want to learn more about employee benefits?
See an overview of university benefits online or go to the benefits site for the health system.
Do you need assistance creating a resume?
Hopkins works with a number of nonprofit partners in the city that may be able to assist you. They include:
Are you looking for a summer internship at Hopkins?
Go to our online application.