Johns Hopkins is committed to purchasing locally from businesses that provide value and deliver results. In our construction area, we have set goals to commit spending with local businesses; certified Minority, Women and Disadvantaged Business Enterprises (MBEs); and city residents for design, consultant, and construction opportunities on Johns Hopkins campuses. Those locations include Johns Hopkins Hospital, Suburban, Bayview and the University's Homewood, Mt. Washington, Peabody and Harbor East locations.
In our purchasing efforts, we want to ensure we get the best product at the best price even as we support local businesses. Unlike other inclusive procurement strategies, Johns Hopkins has a geographic focus within Baltimore City. Please note this does not include Baltimore, Howard, Montgomery or Anne Arundel Counties.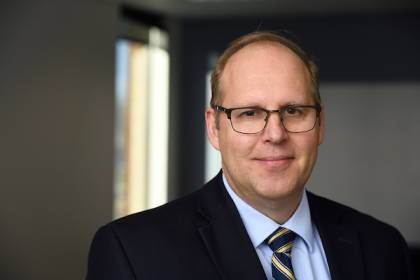 Brian Smith
As JHU's chief procurement officer, Brian leads the university's efforts to meet the HopkinsLocal purchasing goals, make connections with local businesses who may provide goods and services, and make sure contracts with vendors support local jobs and local investment
We have expanded the categories in which we are focusing our local purchasing:
Academic services and products
Administrative services and products
Advertising and marketing
Audio and visual equipment
Catering and food service
Commercial print/prepress/fulfillment
Document output products and services
Facility maintenance and security
Furniture
IT hardware, software, services and solutions
Medical/lab supplies, equipment and services
Moving, movers and storage
Office supplies and equipment
Photo and av equipment
Professional services
Promotional items
Published products and periodicals
Shipping
Telecommunications services
Temporary labor, staffing and recruiting
Travel and events
Do you want to learn more about construction activities at Johns Hopkins University and Health System?
Go to the Johns Hopkins Design and Construction webpage.
Are you a small, local, minority-owned, woman-owned and/or disadvantaged Baltimore-based businesses in the design and construction that could benefit from training and networking opportunities?
Learn more about the BLocal BUILD College, a program that helps firms develop key competencies and relationships necessary for sustainability and future growth.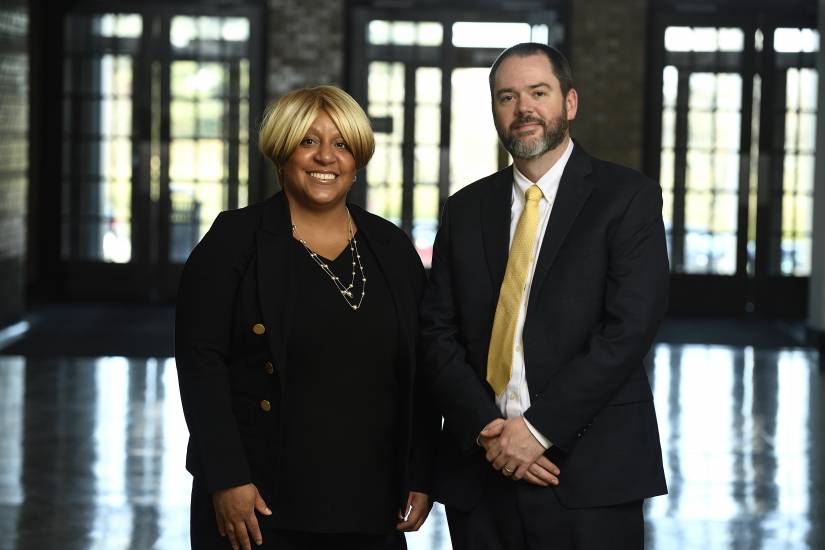 Are you interested in what construction projects Johns Hopkins has coming up?
Visit the current projects page
Do you want to be included in our pool of construction vendors?
Use our online construction vendor application to submit a qualification statement to be reviewed by the Vendor Review Committee. The committee convenes monthly to review vendor submissions and recommend vendors for interviews with D&C leaders for projects managed by Johns Hopkins Health System, Johns Hopkins Facilities & Real Estate, the School of Medicine, and the School of Public Health
Do you want to learn more about purchasing at Johns Hopkins?
Go to the University Finance/Purchasing page or the Health System purchasing department website.
Are you a small business interested in learning and growth opportunities?
In addition to purchasing from local businesses, Hopkins, in partnership with Morgan State University and the Community College of Baltimore County, hosts the Goldman Sachs 10,000 Small Businesses Baltimore program. Participants gain practical skills in topics such as negation, marketing, and employee management that can immediately be put into action. In addition, they receive the tools and professional support to develop a strategic and customized growth plan that will take their business to the next level. (While this program is hosted in partnership with Johns Hopkins, participation in the program, does not guarantee work with Hopkins.)
Other programs that support small businesses include Inner City Capital Connections and Baltimore Creatives Acceleration Network Founder Fellowship.
The Small Business Resource Center is housed at the Mayor's Office of Minority and Women-Owned Business Development. It supports the growth and development of small businesses and entrepreneurs in Baltimore City through technical assistance, training, counseling, workshops and a vast resource library.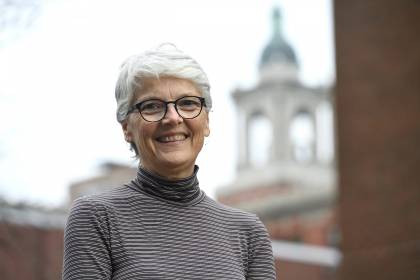 Tricia Sainsott
As a small business and supplier diversity assistant, Tricia helps small businesses in Baltimore City navigate the procurement process at JHU and seeks out vendors in the community who can become future partners